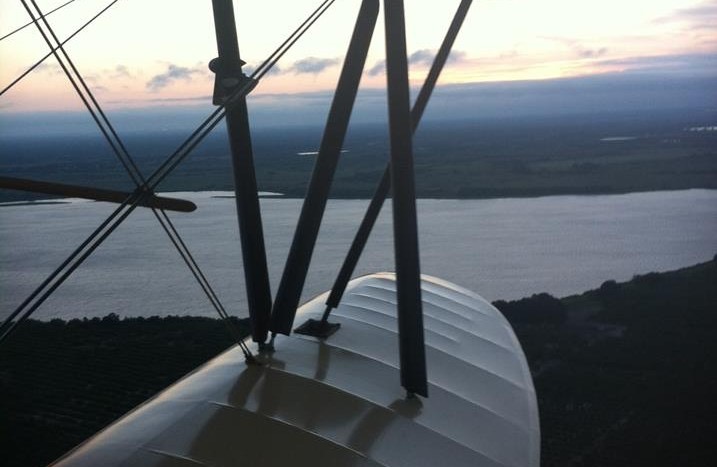 Waldo Wright's Flying Service offers a variety of vintage biplane experiences. Passengers can travel back to the 1930s to enjoy an authentic barnstorming ride in a New Standard D-25, or the 1940s for a more hands-on WWII adventure at the controls of a Boeing Stearman N2S-3. And, coming soon, the 1929 Travel Air E-4000 on floats…that's right, an open cockpit biplane doing rides on the water!
Waldo Wrights Flying Service
Nation's Largest Vintage Biplane Ride Company
For kids as young as 3 weeks and as old as 96 - Waldo Wright's Flying Service will take you on the adventure of a lifetime!
What started in 1995 with the dream of restoring two New Standard biplanes to recapture the "Golden Age of Aviation" has grown into America's largest vintage biplane ride company.
The New Standard airplane was designed specifically for barnstorming at the request of Ivan Gates, the proprietor of the famous Gates Flying Circus. Gates, with Clyde Pangborn, formed and operated one of the largest groups of barnstorming airplanes from the middle 1920s and into the 1930s. Carrying 4 passengers in a large front open cockpit, the airplane was instrumental in introducing hundreds of thousands of people to their first airplane ride, when aviation was in its infancy. Many still remember flying out of a pasture near their hometown when they were young. There are very few of these magnificent airplanes still operating today; in fact, Waldo owns two of the seven presently airworthy and flying.
Waldo Wright's Flying Service also offers flights for a single passenger in the legendary Boeing Stearman. The Stearman was the primary trainer of WWII. Many a young man and woman would leave their jobs as a school teacher, doctor, baseball player, or housewife when they entered the military, and climb into this biplane to learn the basics of flight. Cadets were expected to solo in only 8 hours time. Once the Stearman was conquered, cadets would then transfer on to a basic trainer (BT-13,) the advanced trainer (T-6 or AT-11,) and then on to either a fighter (P-51) or bomber (B-29.) The Stearman aircraft laid down the foundation that would carry these pilots through the rest of their careers, and that "seat-of-the-pants" flying knowledge many times saved them from disaster in the more advanced aircraft.
The Travel Air E-4000 was THE aircraft of its day. Originally designed by Clyde Cessna, Walter Beech, and Lloyd Stearman, Waldo's Travel Air will be mounted on sea plane floats. This unique ride is the only one operating commercially in the world, and is currently under modification.
Call 863.873.1339 or email jill@waldowrights.com to book your flight experience with Waldo in his extraordinary biplanes!
"Waldo Wright's Flying Service will take you on the adventure of a lifetime"