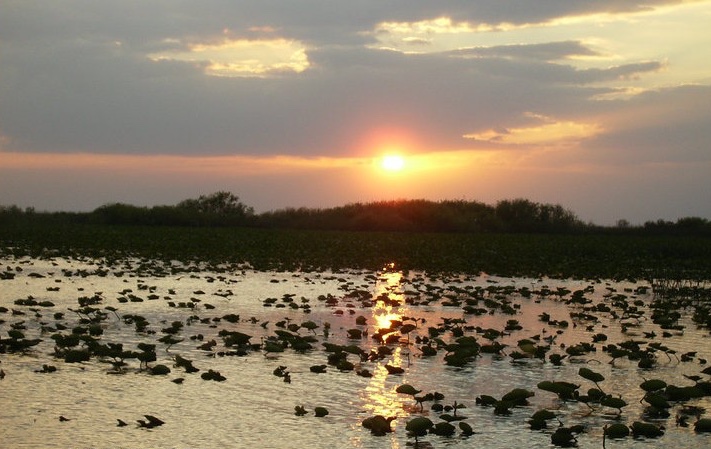 Kissimee Swamp Tours
Kissimmee Swamp Tours and Eco-Adventure is a unique and different adventure from anything you will ever experience. We are not just a quick airboat ride through the lakes and rivers in town like most other airboat rides out there. Kissimmee Swamp Tours is an amazing, exciting and informative 60 or 90 minute airboat ride through the untouched and pristine headwaters of the Florida Everglades.
Kissimmee Swamp Tours operates out of Middleton's Fish Camp Too and Campground located on the beautiful Lake Kissimmee, the third largest lake in Central Florida which covers over 36,000 acres and is surrounded by state wildlife parks and recreational areas and protected wetlands. This lake is not surrounded by houses and cities. Kissimmee Swamp Tours is located about 45 minutes from Disney and Orlando in Central Florida, but extremely easy to find. Click the menu above for directions to us.
Kissimmee Swamp Tours is different..
If you are planning a trip to Orlando or the Central Florida area and would really like to see the REAL Florida in its natural state, untouched by urban sprawl then take the drive out to see us. If you just want to take a quick airboat ride close to Disney, please check with any of the other airboat services. If you want an exciting airboat tour viewing hundreds of different species of wildlife including some endangered birds and alligators in their natural habitat then drive out a little further to where nature lives.
When you take an exciting airboat ride or airboat tour with Kissimmee Swamp Tours, its like stepping back in time and seeing Florida the way it was before people started settling and building. We are part of the Great Florida Birding Trail. Your Airboat Ride Adventure and swamp tour will take you to see endangered species like the whooping crane and snail kite. Also see bald eagles, alligators, wild deer and pigs. see hundreds of species of birds and animals on this adventure. What you wont see is houses and buildings.
Check out our site. See our rates and compare them with other services. remember this.. there is a difference between and airboat ride near town, and a airboat tour with Kissimmee Swamp Tours. Yes, we are a little further away but it's worth the drive to have an exciting swamp adventure and not just an airboat ride.
This is your ONLY opportunity to experience the Florida of yesterday. Most airboat rides near Disney and Orlando in Central Florida take you out on big passenger airboats that carry 10 to 18 people, not Kissimmee Swamp Tours we operate two six passenger airboats which gives you more speed, more one on one time with your Captain.
Here at Kissimmee Swamp Tours, we use Two-Way Radios. Not only can you hear the captain but he can hear you ask questions about the wildlife you see on your 90 minute airboat ride. These are very expensive two-way radios that allow for open conversation between the captain and all passengers on the tour.
Marsh Landing Adventures
Orlando Airboat Tours Private and Personal Airboat Rides is a Real Florida Experience …
Orlando Airboat Tours is owned and operated by Marsh Landing Adventures and we offer the closest Airboat Tour and ECO Tour to all the Central Florida Attractions. We are a premier Airboat Tour on small 6 passenger private airboats that take you on an adventure into the Headwaters of the Florida Everglades, that starts right here in Kissimmee. Florida.
Our fleet of airboats and airboat captains are US Coast Guard approved and properly insured. Enjoy nature at its finest on our 1 Hour. 90 Minute or a 2 Hour Eco Safari. Our tours give you the opportunity to SEE!! HEAR !! FEEL !! & ENJOY !! the true Wild!! side of Florida. You'll see Florida alligators, wildlife of all kinds, many species of birds and beautiful flora.
Your Captain will tell you stories of the American Indians and the history of the early settlers who carved their trails into the swamps of Central Florida.
Orlando Airboats Rides fleet are state of the art, premier 6 passenger, stadium seating boats, which allows everyone to take an unobstructed, fantastic view of the diversity of wildlife, as well as plant life that call the swamp their home. As these airboat tours are in a natural, living environment (Central Florida's subtropical climate promotes the growth of lush vegetation providing natural habitats for a variety of species) taking you through the swamp marsh and wet prairie they are not only educational, but fun and enjoyable. An exceptional airboat ride for all ages. Two years in a row we have been voted, in Orlando air boat reviews as the best 90 minute & Two hour alligator tour in central Florida…
"see the REAL Florida in its natural state"